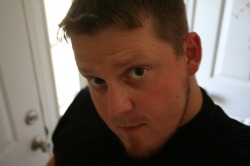 About the Artist
As a boy growing up in the quiet, rural farmland surrounding Marion, Ohio, boredom grew nearly as fast as the corn, and, at the time, Daniel Allard was sure it was the worst place a kid could be. However, it was the lack of excitement that fostered in Dan a strong sense of imagination and forced him to express himself through the gift of art. Encouraged by his parents, he turned to drawing and the outdoors to pass the time, exploring woodlots, riverbanks, and various artistic subjects. He soon developed his talents as an outdoorsman and artist. Looking back now Dan attributes much of his talent and passion to that wonderfully boring childhood.

In high school Dan was awarded a scholarship to attend the prestigious Columbus College of Art & Design, and like Alice down the rabbit hole, Dan began a new adventure in a strange place. "Art school taught me so much about the craft and profession of being an artist, while also sharpening my abilities." Dan says. In 2001 Dan left academia with a Bachelors of Fine Arts Degree in Illustration and embarked on a career as a freelance Illustrator. He received several commissions and while the work was great it was inconsistent. So, Dan began substitute teaching in the Columbus Public School System discovering that teachers, like artists, are seriously undervalued. Two years later and feeling unfulfilled, Dan took a job with an Art Firm which specialized in Murals and large scale works. While there he worked on projects for clients like The Columbus Zoo, Dicks Sporting Goods, and Sofa Express.

In 2004 Daniel married the love of his life Megan, a beautiful and feisty girl he had known since second grade. A bit over a year later they were blessed to learn they were expecting their first child. In 2006 Dan and Meg welcomed a son, Jonah, and this gave Dan the opportunity to embark on the most rewarding career ever, being a full time father. Three years later they were blessed with another son named Lucas. The time at home also allowed Daniel to switch gears professionally and he returned to fields and streams of his imagination and began producing wildlife art.

Dan and his family now live outside of Columbus, Ohio in another boring little town called Pataskala . It has been a few years and Dan has built his portfolio by entering a number of conservation stamp competitions, often landing in the top five of a field of amazingly talented artists. He was fortunate enough to secure a second place finish in the 2009 Colorado contest. "I am not a high caliber artist and I am not where I want to be yet, but I know that with the support of my friends, family, and fans it is only a matter of time until I get there."


Dan with his sons.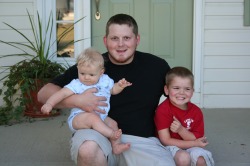 "These are my kids: Luke is the little one and Jonah is the one with the mischievous smile. They make life interesting, funny, wild, rewarding, sometimes difficult, but they are great and they are the best thing I will ever create."
---